When we were young
My love of food goes back to when I was a kid. I grew up in the Dublin mountains with my parent's and two younger brothers. We had some space so my Mam planted apple trees, fruit bushes, potatoes, veg, tomatoes and we had our own hens. She taught us to appreciate nature, we knew where real food came from and how to cook it.
We would gorge on fresh peas, apples and gooseberries until our tummies ached. We'd look after our hens and be rewarded with fresh eggs. The satisfaction at that young age was immense. I loved everything about food!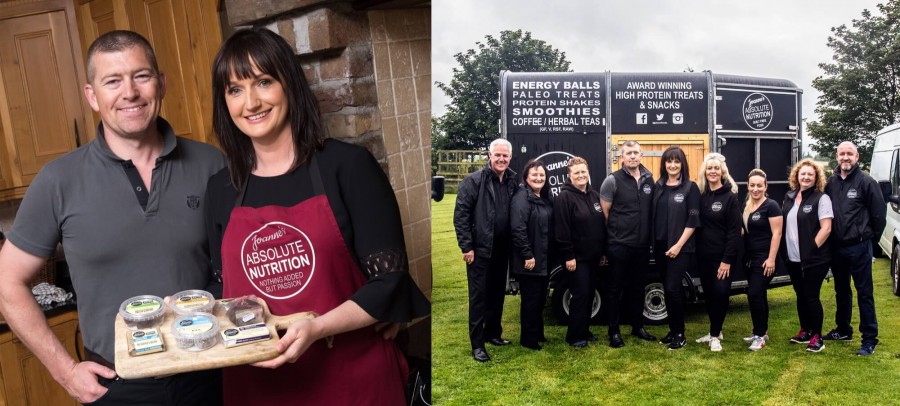 I had an idea
In 2014 we founded Absolute Nutrition. We saw a gap in the market for Healthy Snacks and Treats made from wholefood ingredients, with nutritional benefits and free from refined sugar, gluten and artificial preservatives. I was good at cooking and making Paleo treats at home but I couldn't find the same quality when out or at the gym.
I began making treats and snacks for friends who didn't have time themselves or didn't know what ingredients to use. The taste and quality of my food spoke for itself and we went from strength to strength. Within a few months, I was supplying local SuperValu stores! 
An idea and passion born in my kitchen at home has grown into a successful business that now employs a number of local people. My aim is to teach people that snacking and treats can be both tasty and nutritious.
Come with me on a creative food jaunt
Sometimes the stresses of life and parenthood take over but now with 4 small children of my own, my mission in life is to reconnect and teach you and my children about nature, real food and how to nourish your body, in a quick and simple way, just as my mother did.
I want to share my recipes and love of wholefoods, real food, with everyone. I would love for people to experience the satisfaction in growing something, even a herb, and using it in their own cooking. So get ready to experiment, experience and enjoy everyday food and recipes with me.